DLL Side-Loading for Fun (and Profit?) - Day 3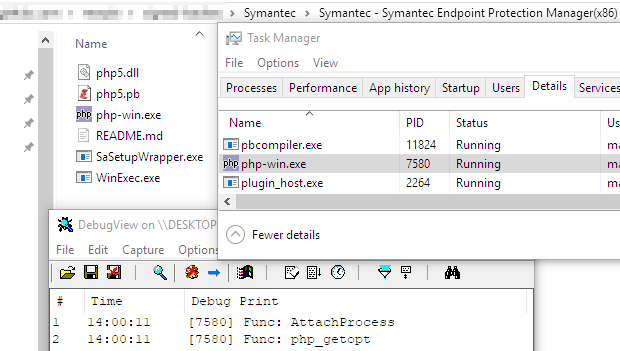 TL;DR: see Part 1 for an introduction to this series and an overview of the available posts.
Today we have some fun with Symantec, as their Symantec Endpoint Protection Manager provides us with two Loaders and one signed (outdated) PHP version that we can use for side-loading via php5.dll and the exports below (see template).
Name: Symantec - Symantec Endpoint Protection Manager(x86)
Executable: php-win.exe
SHA1: af15e83af6c5c923d2f8788477c25d15790f944f
MD5: 30e32444dc23b3a620f698dee1f21749

Certificate: Symantec Corporation/VeriSign Class 3 Code Signing 2010 CA/VeriSign Class 3 Public Primary Certification Authority - G5

Name: Symantec - Symantec Endpoint Protection Manager(x86)
Executable: SaSetupWrapper.exe
SHA1: 7991234464368fc10131bf937f7d7aecb9627da4
MD5: 89eee4675e3aef28ea8cc425f33410c7

Certificate: Symantec Corporation/VeriSign Class 3 Code Signing 2010 CA/VeriSign Class 3 Public Primary Certification Authority - G5

Name: Symantec - Symantec Endpoint Protection Manager(x86)
Executable: WinExec.exe
SHA1: 4f5f19c914fc47bb472ce306820a5f86e0c181d4
MD5: f95b6fb7ba455d76d647b6a67b7f5cf3
Certificate: Symantec Corporation/VeriSign Class 3 Code Signing 2010 CA/VeriSign Class 3 Public Primary Certification Authority - G5
Loaders:
WinExec.exe calc.exe
SaSetupWrapper.exe which loads setup.exe in the same folder
DLL-Template:
;

 

***************************************************************************




;

 

*

                                                                         

*




;

 

*

 

Author

:

      

marpie

 

(

[email protected]

.

net

)

                                

*




;

 

*

 

License

:

     

BSD

 

2

-

clause

                                               

*




;

 

*

 

Copyright

:

   

(

c

)

 

2019

,

 

a12d404

.

net

                                      

*




;

 

*

 

Status

:

      

Prototype

                                                  

*




;

 

*

 

Created

:

     

20190103

                                                   

*




;

 

*

 

Last

 

Update

:

 

20190103

                                                   

*




;

 

*

                                                                         

*




;

 

***************************************************************************




EnableExplicit





;

 

---------------------------------------------------------------------------




;

-

 

Prototypes




Macro

 

LoopForever

()


  

Sleep_

(

-

1

)




EndMacro





Macro

 

DbgOutFunctionName

()


  

OutputDebugString_

(

"Func: "

 

+

 

#

PB_Compiler_Procedure

)




EndMacro





Macro

 

DummyExport

(

proc_name

)


  

ProcedureDLL

 

proc_name

()


    

DbgOutFunctionName

()


    

LoopForever

()


  

EndProcedure




EndMacro





;

 

---------------------------------------------------------------------------




;

-

 

Exports

:

 

php5

.

dll

 

-

 

php

-

win

.

exe

 

(

Symantec

 

Endpoint

 

Protection

 

Manager

)





DummyExport

(

php_error_docref0

)




DummyExport

(

zend_parse_parameters

)




DummyExport

(

php_ini_scanned_files

)




DummyExport

(

php_ini_scanned_path

)




DummyExport

(

php_ini_opened_path

)




DummyExport

(

zend_extensions

)




DummyExport

(

reflection_zend_extension_ptr

)




DummyExport

(

reflection_extension_ptr

)




DummyExport

(

reflection_method_ptr

)




DummyExport

(

reflection_class_ptr

)




DummyExport

(

reflection_function_ptr

)




DummyExport

(

reflection_ptr

)




DummyExport

(

php_import_environment_variables

)




DummyExport

(

sapi_globals

)




DummyExport

(

sapi_module

)




DummyExport

(

core_globals

)




DummyExport

(

module_registry

)




DummyExport

(

executor_globals

)




DummyExport

(

compiler_globals

)




DummyExport

(

zend_printf

)




DummyExport

(

php_getopt

)




DummyExport

(

zend_exception_get_default

)




DummyExport

(

php_info_print_module

)




DummyExport

(

php_print_info

)




DummyExport

(

php_get_highlight_struct

)




DummyExport

(

zend_strip

)




DummyExport

(

zend_highlight

)




DummyExport

(

php_lint_script

)




DummyExport

(

php_execute_script

)




DummyExport

(

php_module_shutdown

)




DummyExport

(

php_module_startup

)




DummyExport

(

php_request_shutdown

)




DummyExport

(

php_request_startup

)




DummyExport

(

zend_load_extension

)




DummyExport

(

zend_call_method

)




DummyExport

(

php_register_variable

)




DummyExport

(

sapi_deactivate

)




DummyExport

(

sapi_shutdown

)




DummyExport

(

sapi_startup

)




DummyExport

(

zend_register_constant

)




DummyExport

(

tsrm_realpath

)




DummyExport

(

display_ini_entries

)




DummyExport

(

zend_ini_deactivate

)




DummyExport

(

_php_stream_open_wrapper_ex

)




DummyExport

(

_php_stream_get_line

)




DummyExport

(

_php_stream_free

)




DummyExport

(

php_output_end_all

)




DummyExport

(

php_output_write

)




DummyExport

(

php_printf

)




DummyExport

(

_object_init_ex

)




DummyExport

(

zend_read_property

)




DummyExport

(

zend_eval_string_ex

)




DummyExport

(

zend_is_auto_global

)




DummyExport

(

open_file_for_scanning

)




DummyExport

(

zend_qsort

)




DummyExport

(

_zval_ptr_dtor

)




DummyExport

(

zend_str_tolower_dup

)




DummyExport

(

gc_remove_zval_from_buffer

)




DummyExport

(

get_zend_version

)




DummyExport

(

zend_llist_sort

)




DummyExport

(

zend_llist_apply

)




DummyExport

(

zend_llist_copy

)




DummyExport

(

zend_llist_destroy

)




DummyExport

(

zend_hash_sort

)




DummyExport

(

zend_hash_copy

)




DummyExport

(

zend_hash_find

)




DummyExport

(

zend_hash_apply

)




DummyExport

(

_zend_hash_add_or_update

)




DummyExport

(

zend_hash_destroy

)




DummyExport

(

_zend_hash_init

)




DummyExport

(

_estrndup

)




DummyExport

(

_efree

)




DummyExport

(

_emalloc

)




DummyExport

(

zend_strndup

)




DummyExport

(

zif_dl

)




DummyExport

(

zend_error

)




DummyExport

(

php_module_shutdown_wrapper

)





;

 

---------------------------------------------------------------------------





ProcedureDLL

 

AttachProcess

(

Instance

)


  

DbgOutFunctionName

()




EndProcedure





ProcedureDLL

 

DetachProcess

(

Instance

)


  

DbgOutFunctionName

()




EndProcedure





ProcedureDLL

 

AttachThread

(

Instance

)


  

DbgOutFunctionName

()




EndProcedure





ProcedureDLL

 

DetachThread

(

Instance

)


  

DbgOutFunctionName

()




EndProcedure



Download: I do not provide the executables in question as they can easily be found on the Internet and I don't want any eager companies to send me DMCA take-down letters ;-). Hybrid Analysis / reverse.it or VirusTotal are always happy to help with downloads for these files…
A description of all executables will be collected on Github: signed-loaders