DLL Side-Loading for Fun (and Profit?) - Day 5 & 6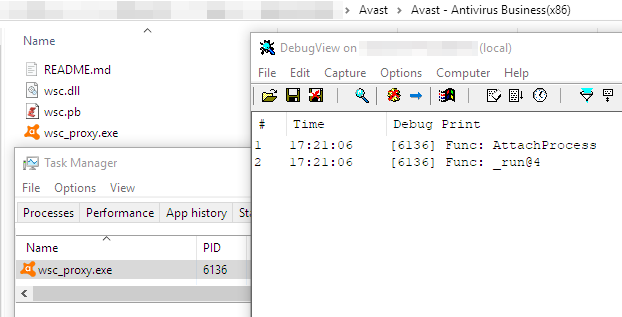 TL;DR: see Part 1 for an introduction to this series and an overview of the available posts.
Since I forgot to post yesterday, I merged the two posts. So below you'll find DLL side-loading targets using Oracle Java and Avast Antivirus Business.
For Oracle Java the DLL-Template is provided below. For the Avast target, just create a DLL (wsc.dll) with one export (called [email protected]) and execute wsc_proxy.exe.
Avast Antivirus Business (x86)
Name: Avast - Antivirus Business(x86)
Executable: wsc_proxy.exe
SHA1: 03aaf714728eae7ba833bdf36be15a3136f4bb46
MD5: 39f551472d83951eae833db975991219
Certificate: AVAST Software s.r.o./DigiCert High Assurance Code Signing CA-1/DigiCert High Assurance EV Root CA
Oracle Java (x64)
Executable: javacpl.exe
SHA1: 22036de995b61ec3a7c7171acf0afc841ebc2b7d
MD5: 7364ff9145c4a99a0975ae08bb9939a3

Certificate: Oracle America, Inc./Symantec Class 3 SHA256 Code Signing CA/VeriSign Class 3 Public Primary Certification Authority - G5

Executable: java-rmi.exe
SHA1: 904100abcac7fae1d0e981fa650e1688595029d7
MD5: c3bf9fa32fe17747657daca1d248fcb3

Certificate: Oracle America, Inc./Symantec Class 3 SHA256 Code Signing CA/VeriSign Class 3 Public Primary Certification Authority - G5

Executable: jjs.exe
SHA1: 413ad12bc3bfa7b034061fb886b67f91b0bba922
MD5: 5a2034a86b64dca5f19d93c031950248

Certificate: Oracle America, Inc./Symantec Class 3 SHA256 Code Signing CA/VeriSign Class 3 Public Primary Certification Authority - G5

Executable: keytool.exe
SHA1: 38aca6498cf6abc64633b1423ee99a7bbebde093
MD5: 68383bccc06ccb652e1c3abc4085c19c

Certificate: Oracle America, Inc./Symantec Class 3 SHA256 Code Signing CA/VeriSign Class 3 Public Primary Certification Authority - G5

Executable: kinit.exe
SHA1: 33e1d205443a7f97a4203ff13ee86d94208d7f38
MD5: 409b29ca764874eb4e1aaaf13295e0fe

Certificate: Oracle America, Inc./Symantec Class 3 SHA256 Code Signing CA/VeriSign Class 3 Public Primary Certification Authority - G5

Executable: klist.exe
SHA1: 37eb5aa8c2a3ca8930a97e00f842ff9059d55221
MD5: 7c5b0ef9949c0d935a0b8e61ea5c4a86

Certificate: Oracle America, Inc./Symantec Class 3 SHA256 Code Signing CA/VeriSign Class 3 Public Primary Certification Authority - G5

Executable: ktab.exe
SHA1: 9c529e4df520e552c2c9c22696feb9b12f0bedd1
MD5: f0983a787ff925ebd8940e0916a9324d

Certificate: Oracle America, Inc./Symantec Class 3 SHA256 Code Signing CA/VeriSign Class 3 Public Primary Certification Authority - G5

Executable: orbd.exe
SHA1: 1011bd5ea2e46483fd417c494a92078f64beb02f
MD5: 67e74bbd8ab446c77464a2dff70d49c4

Certificate: Oracle America, Inc./Symantec Class 3 SHA256 Code Signing CA/VeriSign Class 3 Public Primary Certification Authority - G5

Executable: pack200.exe
SHA1: 64af474c831c3fbede243683be48c8530155a413
MD5: 43470b2ddbbc7733ce3174ccb0dfaa1f

Certificate: Oracle America, Inc./Symantec Class 3 SHA256 Code Signing CA/VeriSign Class 3 Public Primary Certification Authority - G5

Executable: policytool.exe
SHA1: ec128f8c4876ffcb807897b1b2e1c10c2f6ffa0e
MD5: e5ae58a6467f5a927068856e730980d2

Certificate: Oracle America, Inc./Symantec Class 3 SHA256 Code Signing CA/VeriSign Class 3 Public Primary Certification Authority - G5

Executable: rmid.exe
SHA1: 8764c9fcf91d0860ca237f537ceda735a43dd697
MD5: 3ef59771b19e8f8c04b800072c60a8c9

Certificate: Oracle America, Inc./Symantec Class 3 SHA256 Code Signing CA/VeriSign Class 3 Public Primary Certification Authority - G5

Executable: rmiregistry.exe
SHA1: 7d4eb727a417db9f4b4c5d0e636784b7555bbeab
MD5: bd49ad337e128744b7c4829952129eb6

Certificate: Oracle America, Inc./Symantec Class 3 SHA256 Code Signing CA/VeriSign Class 3 Public Primary Certification Authority - G5

Executable: servertool.exe
SHA1: 762f22176835eabee4dc3ab96936e3ed0f73f992
MD5: f345369270650ddd7b9f322c0ad343b0

Certificate: Oracle America, Inc./Symantec Class 3 SHA256 Code Signing CA/VeriSign Class 3 Public Primary Certification Authority - G5

Executable: tnameserv.exe
SHA1: a3ee9b5ece6bac47387c96995e23144c2ba5738d
MD5: 9dfe966da7007d8eec1102bf7883c739
Certificate: Oracle America, Inc./Symantec Class 3 SHA256 Code Signing CA/VeriSign Class 3 Public Primary Certification Authority - G5
DLL-Template (Java):
EnableExplicit





;

 

---------------------------------------------------------------------------




;

-

 

Prototypes




Macro

 

LoopForever

()


  

Sleep_

(

-

1

)




EndMacro





Macro

 

DbgOutFunctionName

()


  

OutputDebugString_

(

"Func: "

 

+

 

#

PB_Compiler_Procedure

)




EndMacro





Macro

 

DummyExport

(

proc_name

)


  

ProcedureDLL

 

proc_name

()


    

DbgOutFunctionName

()


    

LoopForever

()


  

EndProcedure




EndMacro





;

 

---------------------------------------------------------------------------




;

-

 

Exports

:

 

deploy

.

dll

 

-

 

javacpl

.

exe





DummyExport

(

GetCurrentJavaHomeFromRegistry

)





;

 

---------------------------------------------------------------------------




;

-

 

Exports

:

 

jli

.

dll

 

for

 

java

-

rmi

.

exe

 

and

 

others





DummyExport

(

JLI_CmdToArgs

)




DummyExport

(

JLI_GetStdArgc

)




DummyExport

(

JLI_GetStdArgs

)




DummyExport

(

JLI_Launch

)




DummyExport

(

JLI_MemAlloc

)





;

 

---------------------------------------------------------------------------





ProcedureDLL

 

AttachProcess

(

Instance

)


  

DbgOutFunctionName

()




EndProcedure





ProcedureDLL

 

DetachProcess

(

Instance

)


  

DbgOutFunctionName

()




EndProcedure





ProcedureDLL

 

AttachThread

(

Instance

)


  

DbgOutFunctionName

()




EndProcedure





ProcedureDLL

 

DetachThread

(

Instance

)


  

DbgOutFunctionName

()




EndProcedure



Download: I do not provide the executables in question as they can easily be found on the Internet and I don't want any eager companies to send me DMCA take-down letters ;-). Hybrid Analysis / reverse.it or VirusTotal are always happy to help with downloads for these files…
A description of all executables will be collected on Github: signed-loaders